This page will be available in English as soon as possible. As long as you don't understand the German version, please contact me and ask whatever you are interested in. Thanks!
Seit 2006 bin ich Mitglied des 1989 in Hamburg gegründeten Jazzstreichquartetts STRING THING, das durch zahlreiche Konzerte (China, Japan, Marokko, Frankreich, Bulgarien, West-Afrika, Pakistan mit dem Goethe-Institut, FIFA World Congress Marrakesh, Leverkusener Jazztage, Schleswig-Holstein-Musikfestival, Bregenzer Festspiele u.v.m.), TV-/Rundfunkproduktionen (WDR, NDR, BR, RBB u.a.), CDs und Preise auf sich aufmerksam gemacht hat.
2019 feiert String Thing neben seinem 30jährigen Jubiläum auch die Premiere des Programms Beauty Of The Essential Detail mit dem Kölner Saxofonisten Roger Hanschel (WDR Jazzpreis 2018) im Rahmen des HÖMMA Jazzfestivals Oberhausen (8. September 2019).
Informationen zum Programm:
Von String Thing finden Sie alle CDs und Noten, Termine, Fotos, Videos und Audiobeispiele unter www.stringthing.de...
Ich spiele auf der 6. CD des Quartetts Alma Latina.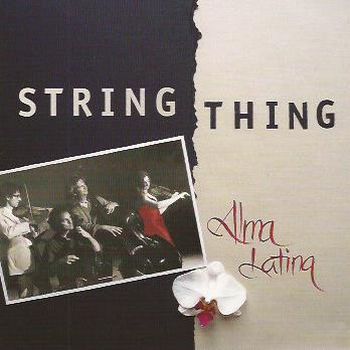 Alma Latina (2008)
ALMA LATINA ist das erste Konzeptalbum von STRING THING. Angestoßen durch Hajo Hoffmann, der zwischen 2004 und 2007 Violine im Quartett spielte und in seinen Stücken viele Eindrücke aus seiner Wahlheimat Brasilien einarbeitete, steht die packende und mitreißende Musik Lateinamerikas im Zentrum des Programms. Die Kompositionen werfen sehr persönliche Blicke durch die europäische Brille auf eine Vielzahl von Aspekten lateinamerikanischer Musik, die die Musiker zu ganz unterschiedlichen Herangehensweisen inspirierten. Das Booklet enthält persönliche Kommentare der Komponisten zu ihren Stücken.
"The compositions are strong, rife with excellent polyrhythmic riffs and bouncy melodies, with many juicy surprises to keep things interesting. Tiedemann and Piezunka don't leave the solos and melodies to the violins, but also tear of some fabulous solos and even take turns playing completely unaccompanied." Cello City Ink (USA)
Nicola Kruse | Violine
Ingmar Meissner | Violine, Viola
Gunther Tiedemann | Violoncello
Jens Piezunka | Kontrabass, Gesang
MicNic Records 2008, MN 6